Written by Chalupa
Wednesday, 24 November 2010 00:47
I'm sure many of you are aware (hopefully not first-hand) of the new measures being taken by the TSA at US airports to "beef up" security.  With promises of protection and fear of nihilistic terrorists, what seems to be happening is citizens are getting their johnsons roughed up.  Now don't be facetious asking, "what do you need that for, Dude?"  We all know what they're needed for.  I don't mind the "enhanced imaging" scans, but I'd certainly object to the aggressive pat-down.
@LarryClow brought our attention to an AMAZING t-shirt depicting The Jesus as a TSA agent.  While I probably will not be purchasing this with its $28.99 price tag, I still think it's hilarious and wanted to share.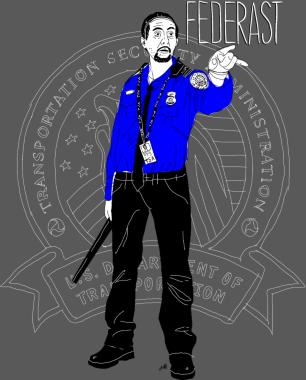 Click the image or try the link below to inspect the design (Brandt says please) or purchase one to wear next time you're at the airport.
http://www.printfection.com/federast/TSA-Federast-Organic-T-Shirt/_p_5457463